In 2004 the guys from Velodyne who make subwoofers entered a robot into the 2004 DARPA Grand Challenge under the name of Team DAD (Digital Auto Drive). Back then, their primary obstacle avoidance system was their proprietary stereoscopic vision system mounted on the roof of their Toyota's cab.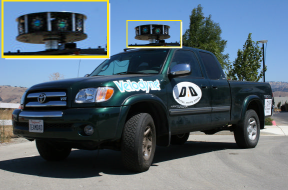 In 2005 they invented a new kind of a scanning technology. Team DAD's scanning invention appeared exotic to say the least. It looked like a fast-spinning UFO hovering a few inches above the team's Toyota pickup truck. SICK Ladar systems were the obstacle-detection sensor of choice at the time but they only scan a thin slice of the world. Competitors who used SICK had to build their own contraptions that would swivel the scanners in order to sweep a scan or they would install multiple scanners, each scanning a different plane.
DAD's innovation solved that problem by rotating 64 lasers 600 times a minute. The placement of the lasers also yields a 20-degree vertical scan. Here's the description they wrote up in their technical brief for DARPA:
A unique LADAR terrain mapping and obstacle detection system is employed as the single sensor. The 64-element LADAR system has a 360-degree field of view and a 20-degree vertical range. It is mounted on top center of the cab, giving it a clear view in all directions, and rotates at a rate of 600 RPM. The camera is shock mounted, and has an INS sensor system mounted on it to report exact pitch and roll of the unit that is used by navigational computers to correct for these forces. The unit generates its own light and uses a proprietary filter to reject sunlight, so it works well under all lighting conditions. Since the whole camera spins, dust and rain are spun off the unit as it rotates. The LADAR unit is capable of seeing through fog and heavy rain by ignoring early reflections. The unit has a dynamic power feature that allows it to increase the intensity of the laser emitters if a clear terrain reflection is not obtained.
They have since commercialized the technology and changed its design. It now resembles a silver can spins at 1200 RPM and it has its own web site from which you can order the product at a meager $75,000.
DAD was the only competitor with this sensor in the 2005 DARPA Grand Challenge. There are no fewer than six teams with the technology competing in this year's 2007 DARPA Urban Challenge. Big budget teams such as Stanford and Carnegie Mellon (Team Tartan) are included in that list:
As technological innovations such as Velodyne's begins to mature, the future of autonomous driving gets closer. Robot Central will be discussing two other technologies that are prime innovative contenders for commercialization and accelerating autonomous transportation in civilian life.
References: