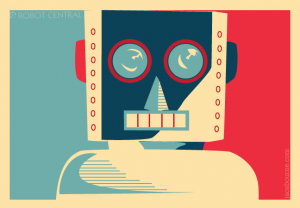 Is it possible to remove politics from chronicling robotic evolution?
We asked and meditated on this question at RC HQ
yesterday. While there was not a neat and compact resolution, what came out of the discussion was the realization that it might not be possible to completely remove politics, but it was possible to keep the reportage from being bogged down in the kind of political/ideological warfare American readers are so used to — which makes things, frankly, boring and unfun.
It seems to me that you can tackle the issue a few different ways. The easiest is to take a page from our current pundit class, engage in hyperbolic argument and resolve nothing. Another way is to stay completely technical — reporting strictly on the new advances in robotics, in effect creating a kind of robotic gaze, where the human element is almost completely left out, except for a tangential mention of who made the advance.
The third way, and the way I think we're going to do it here at RC, is recognizing the human element in all its social, political and economic glory but striving for a balance and a consideration of all points. Going with option three doesn't necessarily rule out judgement calls on my part, but it tries to open a conversation rather than head one off through brash opinion making or strictly sterile robotic reportage. In addition, we want to create a positive atmosphere and a forum for that open conversation to happen.
To that end, I came across an interesting Smithsonian article about Jaron Lanier, which led me down the rabbit hole to BigThink. In the video entitled "Let's Unmask The Great & Powerful Oz of Technology," Lanier points out, I think correctly, how we'd be doing ourselves a massive disservice by removing the human element from technology (and, by extension, artificial intelligence, robotics and a host of other branches) and treat it as a completely autonomous entity. Not only does it leave humans without any credit for making this magnificent machine, but it could also create a situation where we distance ourselves from confronting the consequences.
I'm fond of saying that to augment our advances in technology, that we should have a world-wide therapy session about them. The purpose of such a conversation would be to assert our dominance over technology, rather than relinquishing that dominance so technology can direct our future for us. It's also to say that we need to recognize those are going to be disadvantaged in the process and see what we can do to lessen the strife or try to completely avoid it. Necessarily, that is a political question but one that can be dealt with in as little of an ideological manner as possible through sharing all perspectives on the situation.
We are the drivers behind this autonomous car, and we deserve all the glory for building it yet we shoulder all the responsibility for it as well.