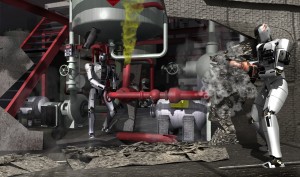 As previously posted, the DARPA Robotics Challenge is on. This year the challenge will focus on disaster response, which was inspired by the "Fukushima 50" — 50 brave people who were instrumental in containing the post-tsunami Fukushima nuclear plant disaster. There are several "Tracks" for participants to compete in:
Track A: these teams will design their own robot and write the software for it
Track B: these teams will create software for Boston Dynamic's Atlas robot
Track C: these are international teams which can write software based on DARPA's DRC Simulator
Track D: these are teams that want to participate, but not use DARPA money
So far, the Track A teams have been announced. Most of the teams will be building bi-ped, humanoid robots but the one that caught my attention was the NASA-JPL project: RoboSimian.
The RoboSimian, as the name implies, works like a chimp. It has four limbs, which are designed for stability and to grab things with all its limbs. I'm struck by this design mostly for the stability angle.
I'm going to digress here a little: the precursor to Boston Dynamic's Atlas robot, the Pet Proto, is apparently limber but it also looks like it could come crashing down with relative ease. Obviously, the ability to make it stable is there, though, one thing I've been constantly reminded of is the difficulty in creating a robot that can efficiently mimic human movement. On the other hand, take a robot like the BigDog which works on four legs. You can see how well it stands up even when someone is trying to kick it down.
That's not to say that stability is necessarily an issue for the other humanoid robots, but I have to wonder how well they can move and maneuver compared a four-legged robot.
The other robot that I'll be following closely over the course of the challenge is Virginia Tech's Tactical Hazardous Operations Robot a/k/a THOR:
Virginia Tech proposed to develop THOR, a Tactical Hazardous Operations Robot, which will be state-of-the-art, light, agile and resilient with perception, planning and human interface technology that infers a human operator's intent, allowing seamless, intuitive control across the autonomy spectrum. The team will emphasize three essential themes in developing THOR: hardware resilience, robust autonomy and intuitive operation.
The goals of autonomy and intuition make this project well worth watching.
Once the Track B projects are announced, we'll comb through those as well. Let us know which project you're most excited about, or if you're just plain excited about the whole Robotics Challenge. Our Twitter is @RobotCentral or you can hit us up on our Facebook page here.
Image credit DARPA Robotics Challenge.
Related articles