In 2004 and 2005 came the DARPA Grand Challenges–competitions in which vehicles were expected to traverse hundreds of desert miles completely autonomously. In 2007, DARPA brought the robots into a suburban setting for the Urban Challenge.
Last August, we discussed ELROB, the European Land Robot competition in which robotic vehicles were challenged with traversing an off-road course autonomously or semi-autonomously. We responded to the EE times assertion that ELROB required "more autonomy" than did the USA's DARPA Challenges. We were (okay okay, "I" was) offended.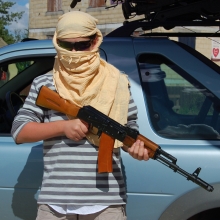 And now we have the United Kingdom Ministry of Defence's ("MoD") Grand Challenge. The objective in this competition is to have robots identify enemy threats within an urban setting using as much autonomy as possible before any humans enter the combat theater. Robots are expected to identify:
Improvised Explosive Device (IED)
Marksman operating from a building.
'Technical' (civilian 4×4 with mounted heavy weapon) either in open or under cover.
Armed people in military-style clothing.
"The targets will be placed in a variety of types of location varying from in-the-open to the fully obscured. More credit will be given for those targets that are obscured or partially obscured." This truly a difficult competition. As somebody familiar with the difficulty in the kind of object recognition required to achieve these objectives, I predict no participant will complete the objectives to the satisfaction of the judges.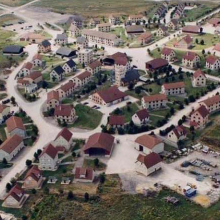 Like the Grand Challenges, there have been many phases throughout the competition. And like the Grand Challenges, it all comes down to one final event. This final event is set to take place in Copehill Down, shown in the image at the right. The date has been stated as "Summer 2008."
Participants have been using all the resources at their disposal from mobile vehicles to unmanned aircraft. The model is generally that robots on the ground are in communication with bots in the air which collectively provide information to a central station. Although humans are allowed to interpret the data and even guide the robots, the spirit of the competition is intended to relieve the human of most of the burden of identifying the risks.
–
This scenario is a perfect opportunity for builders to leverage technologies that have emerged from DARPA's Challenges such as Gray Matter, Inc.'s AVS and TORC's AN-100 autonomy-in-a-box products. These American-made technologies have commoditized excise tasks such as navigation and obstacle avoidance and would allow MoD GC participants to focus on their higher level applications.
–

I have been unsuccessful in accessing Dragonfly Air Systems to directly validate the existence of this dual-rotor helibot. If a reader happens to validate the existence of this robot, I'd appreciate an email or a post on it.
Sources: