If iRobot is a bellwether for the future of personal robotics, then the market is not just hype.  iRobot's second quarter revenue increased 43% over the same time last year with profits totaling $16.5M, or about 24% of Q2′s $67.2M revenue.
"In the second quarter we achieved our 16th consecutive quarter of year-over-year revenue growth despite increasing economic headwinds. Our strong revenue performance drove first half results that were substantially better than the guidance we provided for the period," said Colin Angle, chief executive officer of iRobot. "The company performed well in a difficult environment. The second quarter and first half results demonstrate the resiliency of our business in an unstable economic market," he added.
That's good news for any company, especially when it's the 16th consecutive quarter of growth.  There are those who worry that iRobot's place in the robotics marketplace is precariously balanced on the heels of the Future Combat Systems initiative which provides iRobot with a substantial portion of its revenue.  Fortunately, iRobot is as good with business as it is in building robots.
In the second quarter, total home robot revenue increased 143 percent year-over-year. International home robot revenue was up more than five times the level of Q2 2007 and comprised approximately 40 percent of total home robot revenue in the quarter.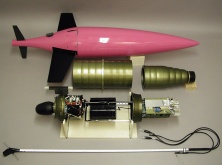 iRobot also sees a new market opportunity in the push for offshore oil drilling.  They announced a sole licensing agreement with UW TechTransfer at the University of Washington to commercialize Autonomous Underwater Vehicle Seaglider technology.  This OEM deal marks a milestone in the next generation of robot market development and a desire to make the business successful.   Less mature organizations suffer fromt he not-invented-here syndrome.  It's clear that iRobot is aiming and heading for success.

References: